You'll Cruise In Style and Comfort Aboard The Saltery "C"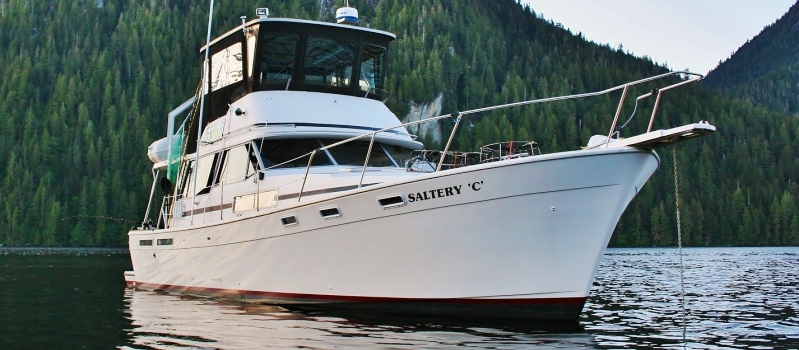 The Saltery "C" is a 40′ Bayliner Explorer Motoryacht designed for extended overnight fishing, cruising, dining, and recreation. The layout on this vessel is legendary and still very popular today. It's a well thought out interior and an attractive style with great lines and 360 degree visibility from inside the cabin. Over the decades of service, many additions and upgrades have been applied that have enhanced the overall experience for our guests. Aside from every appliance, engine, upholstery, carpet and canvas being replaced with new at some point, there have been some major changes to make note of.
She's Got Horsepower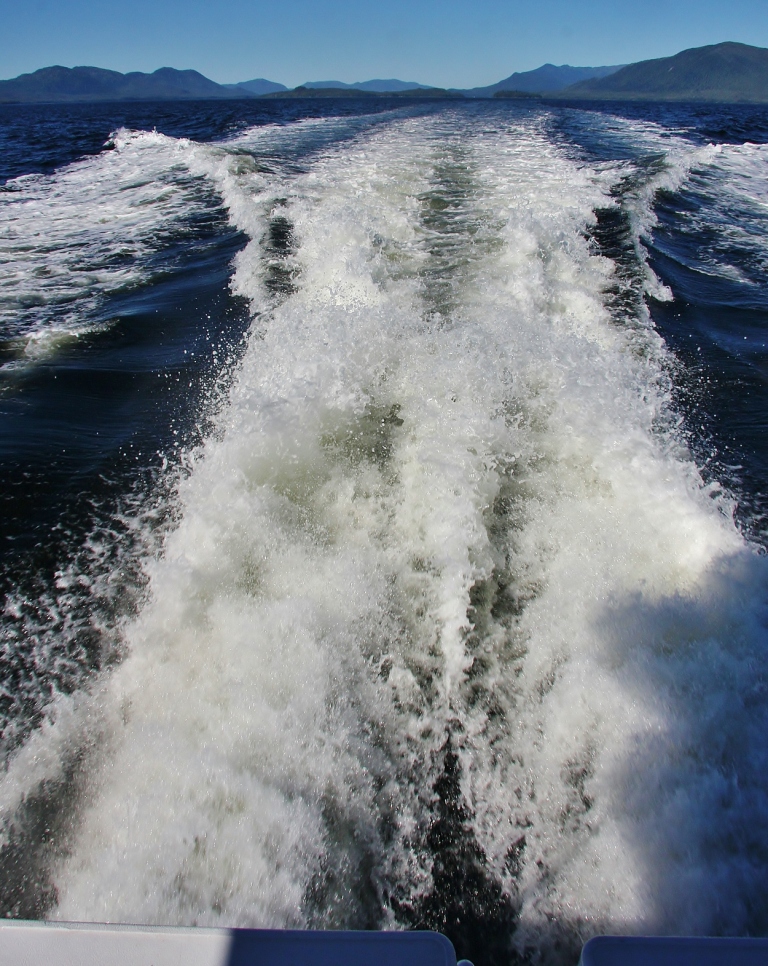 Spring of 1998 2 new engines were installed, Cummins 270 B series diesel engines that doubled the horsepower, from a 12 knot trawler type to a 16 knot cruiser using less fuel and lower rpm's. Top end is in the mid 20 knots depending on fuel, water and load. Spring of 2004 came a major upgrade with an underhull extension that replaced the small swimstep. It matches the tunnel hull underwater and basically lengthened the vessel overall. It definitely increased performance noticeably with better speed at lower rpm's, fuel savings, and stability in rough seas. The same time a fiberglass top was also installed over the fishing cockpit, to keep folks dry and out of the elements, a real advantage in this rainforest environment. It also serves as storage for kayaks and crab pots, along with other adventure essentials.
Fully Outfitted Stem To Stern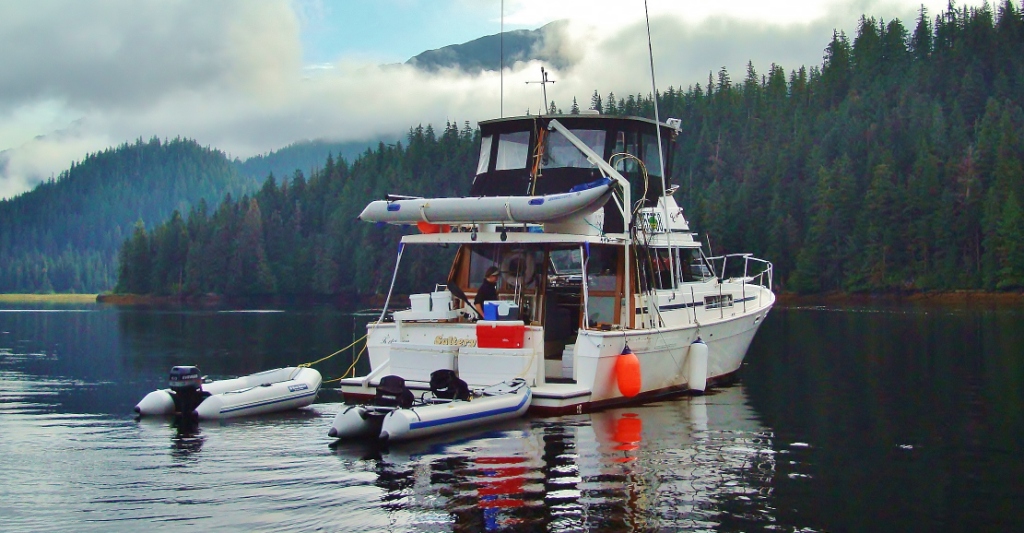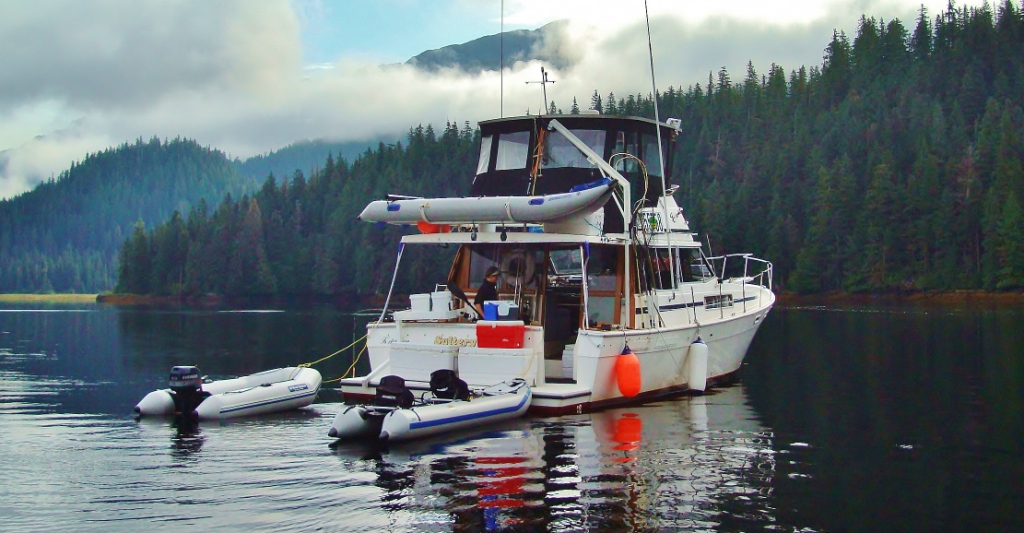 The Saltery "C" is fully outfitted from stem to stern for exactly the kind of wilderness adventures we provide. She's nimble, fast, comfortable, and cozy, yet also a reliable workhorse and fishing machine! Below decks a new 6.5 kw generator was installed in the Spring of 2011, and the twin Cummins 270 B series in 1998, has provided years of reliability to go with the increased speed. She's fully outfitted with Furuno navigational, fish finder, GPS, radar equipment, along with the latest computer navigation systems, that enables us to ply the waters with confidence and safety in search of fishing hotspots and adventure destinations. The back deck area is where folks spend a great deal of time fishing, relaxing, fish processing, relaxing, accessing adventure, relaxing, and there's up forward as well for more, fishing, shrimping, whale watching, and yes, relaxing. There's room for 4-6 people to fish off the back and sides. The fish cleaning platform and barbecue grill live on the perimeter of the fishing cockpit as well.
Home Sweet Boat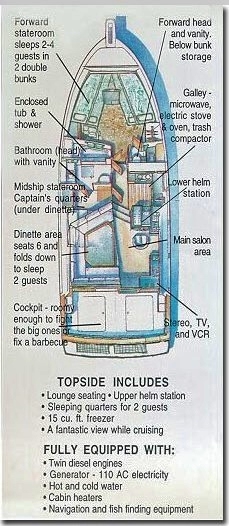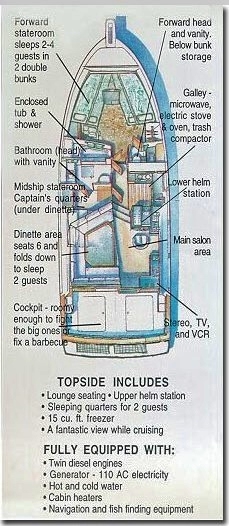 Stepping inside from the fishing cockpit is the main salon where you'll find it's warm and comfortable with a 360 degree view while dining and cruising. To the starboard side is the lower helm station and aft of that is the entertainment center complete with flat screen TV, DVD player and sound system you can hook up to with your iPod music player. Forward and down 3 steps is the galley that provides a compact yet very functional workstation for the marvelous meals by our on board chef/stewardess. Directly across from the galley is the chef's quarters and adjacent head (lavatory) and tub/shower.
Moving forward into the v-berth area are the 4 over-sized bunks, 32″X 78″ (bigger than bunks on many 50′ – 60′ yachts) that are comfortable and you can stretch out. Bottom bunks a little larger than the top ones, but equally comfortable to sleep in with 4 inch foam to rest a weary body on. Plenty of room is found underneath and to the side of the bunks for gear and luggage, There is another head (lavatory) forward as well. For additional guests (5th-6th persons) we lower the dinette table and install the fitted cushions for a queen sized bunk for two.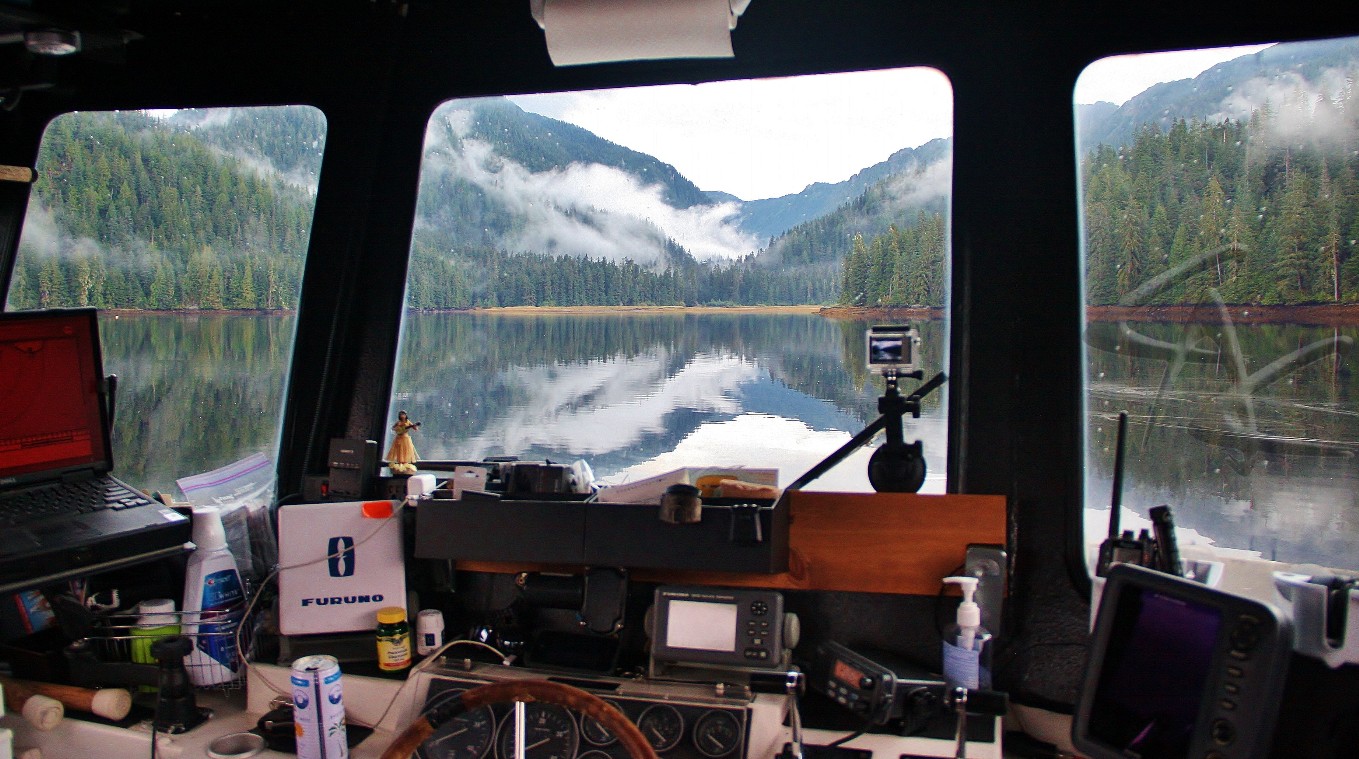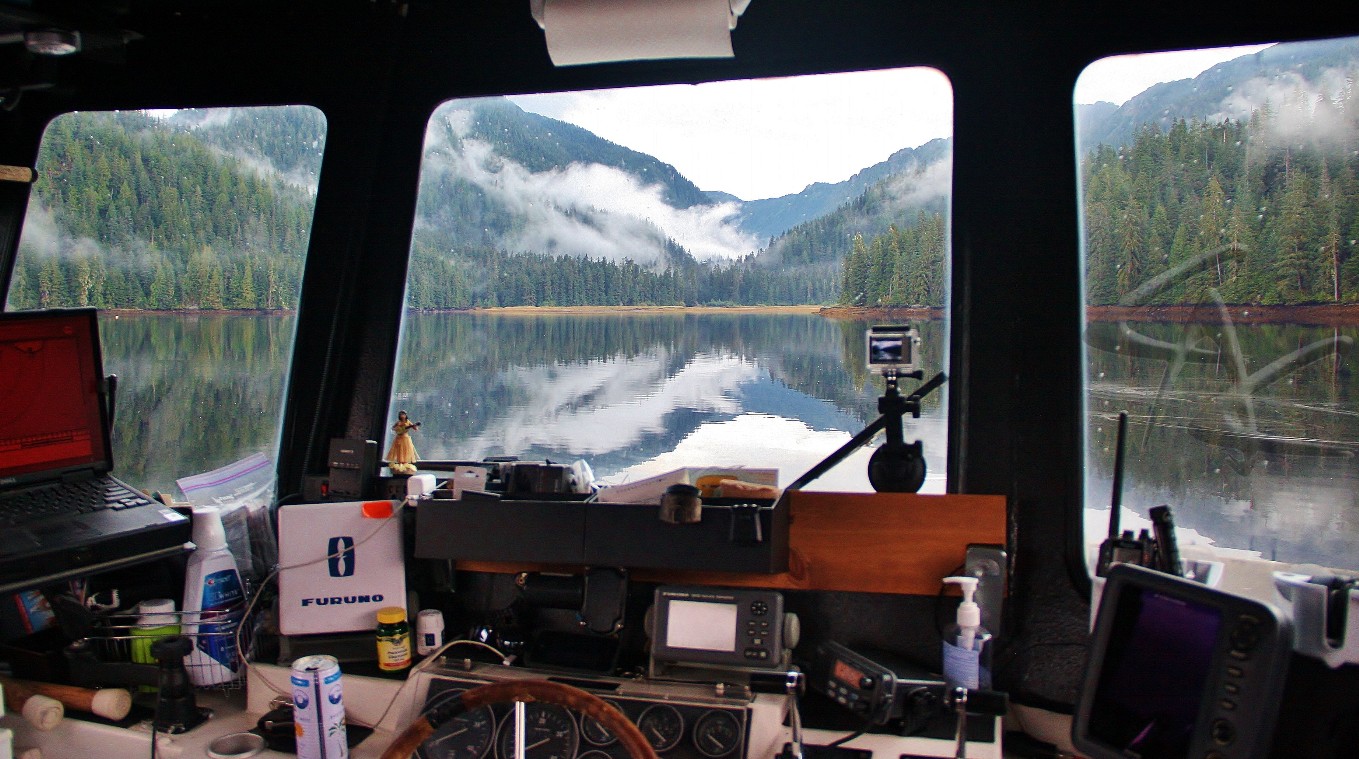 Topside is the upper helm station and main navigation and steering for going from point A to point B. It's also Captain Rob's office and sleeping quarters. There's also a 15 cu ft freezer topside to port and aft of lounge seating. The view from enclosed topside is marvelous and a favorite spot to photograph and chat with the Captain while underway.


The functional design/layout, along with our continuing modifications make the Saltery "C" an exceptional overnight cruiser in it's class, providing reliable and comfortable accommodations for the various adventures we pursue….rain or shine, in all kinds of weather!