Ketchikan, Alaska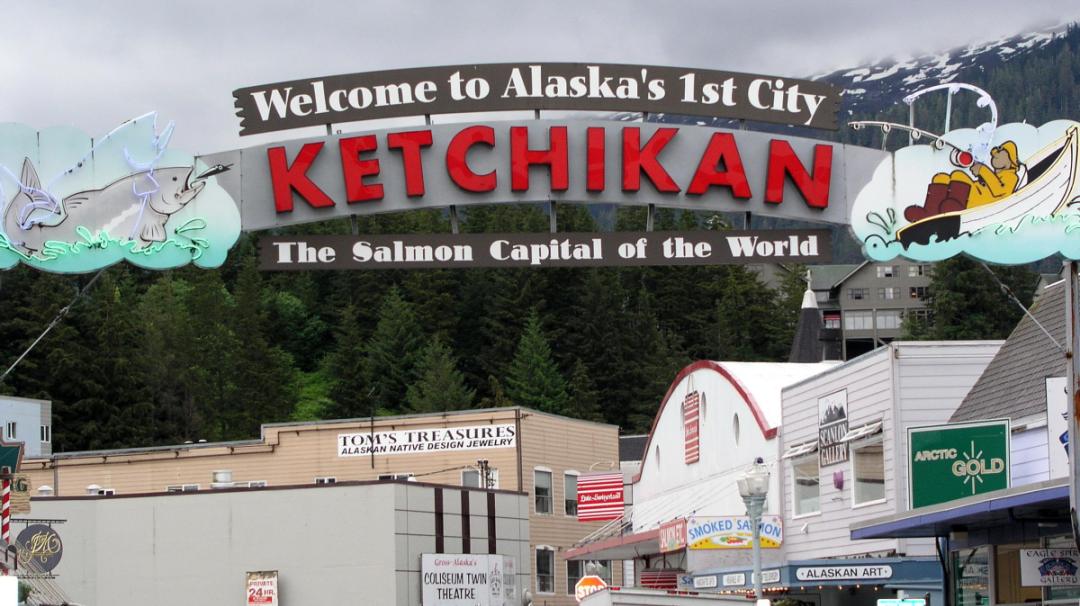 Known as the First City of Alaska, Ketchikan is located in Southeast Alaska 234 miles south of Juneau, the Capital City of Alaska, and 680 miles from Seattle. It's a quick 90 minute flight to Ketchikan from Seattle on Alaska Airlines. There are no roads to access Ketchikan, except for the Alaska Marine Highway that ferries vehicles and people through the protected Inside Passage. The trip is 8 hours from Prince Rupert, BC or 36 hours from Bellingham, WA. Historically Ketchikan was a timber and fishing town until 1997 when the pulp mill was shut down. Now commercial fishing and the expanding cruise ship industry, along with tourism in general, have become the economic focal point for this the 5th largest city in Alaska. State and Federal Government make up a significant portion of the citizenry and economy as well. The population has stabilized at about 12,000, more and less as the tourist seasons come and go. Ketchikan is the main hub in southern southeast Alaska for daily dispersing cruise ship travelers from around the globe to local and outlying adventure destinations. They climb back aboard in the afternoon and head north or south to another town in Alaska or Vancouver, BC. These days it's about a million cruise ship passengers from May through Sept that most shuffle off into Ketchikan's "Gift Shop and Jewelery Central" downtown area that specifically caters to the cruise ship industry. The truly special places and the REAL Alaska are the remote coastal areas away from town and far from the popular cruise ship traffic and crowded fishing grounds servicing cruise ship tourists. Well outside the range of typical small day charter boats are some of the best fishing hot spots to be found anywhere on the planet! Where the civilization ends is where Classic Alaska Charters wilderness adventure begins…
How To Get Here…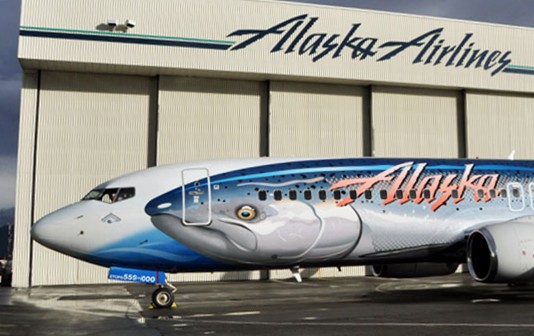 Alaska Airlines is only airlines at this time that flies into Ketchikan International Airport from Seattle. From wherever you are in the USA you'll fly into Seattle and then connect on Alaska Airlines to get to Ketchikan (KTN). There's a short 7 minute ferry ride from the airport on Gravina Island across Tongass Narrows over to the "town side" of Revilla Island and Ketchikan proper. Once on town side you're just a few minutes away from the Plaza Port West Mall, Safeway, Tongass Marine Store, Murray Pacific Fishing Supplies, and downtown, along with the various Hotels and B&B's. Hotels usually have shuttle service (courtesy van) that will pick up guests staying with them and deliver them to from the airport ferry to hotel at no charge. Most hotel's courtesy van will also help make your shopping about town a little easier from one end to the other. They will also deliver you to the Harbor where Captain Rob and crew await to spoil you on your once in a lifetime wilderness adventure with Classic Alaska Charters!
Where CAC Operates…

Classic Alaska Charters primary area of exploration is inside the protected waterways surrounding Ketchikan and includes Misty Fiords (or Fjords) National Monument Wilderness Area, the "backside" of Revilla Island, around Duke and Gravina Islands, and the eastern shores of Prince of Wales Island. These coastal areas include a myriad of islands, reefs, channels and bays that offer excellent opportunities for cruising, exploring, and fishing, in comfort and safety in any weather conditions. During storms when uncomfortable conditions exist in the main open areas, Captain Rob always finds quiet and calm waterways to continue the groups pursuits of adventure. Every evening we anchor in a secluded cove to process the days catch, relax and watch the sunset, photograph wildlife along the shoreline, take in some kayaking, or just hang out on the back deck and fish a bit more waiting for dinner to be served. Because we cruise and fish the most protected channels and anchor in very calm coves, the chances of getting seasick aboard the Saltery "C" are very low.
Misty Fiords National Monument Wilderness Area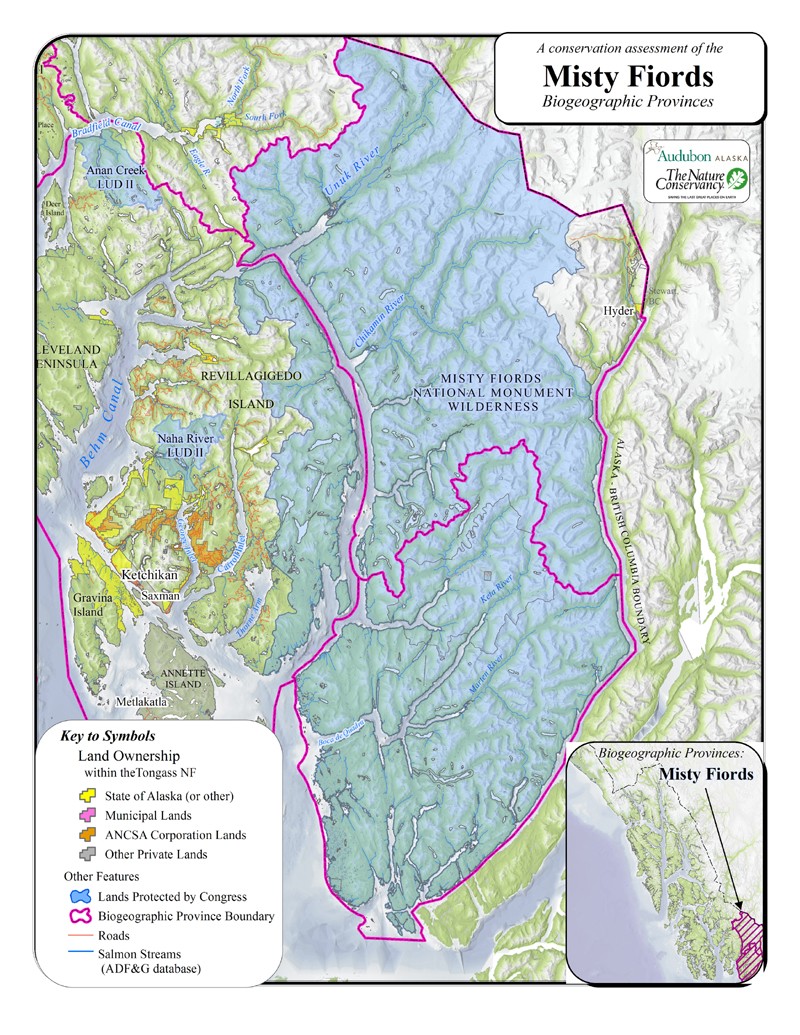 Ketchikan's relative isolation makes it a great destination for those seeking a more secluded, remote type of vacation adventure away from the crowded tourist venue's in town. Misty Fiords National Monument Wilderness Area begins 25 miles East of Ketchikan and stretches 2 million acres from East Behm Canal all the way to Portland Canal, and the border with British Columbia, Canada. To the north the wilderness boundary goes just past and includes the estuary areas of The Unuk River. This very special wilderness area was created on December 1, 1978 through presidential proclamation by President Jimmy Carter to protect the ecological, cultural, geological, historical, prehistoric, scientific, and wilderness values of the area. The pristine tranquility and serene atmosphere of the Misty Fjords will transform and relax those who truly appreciate the value of wilderness. The incredible ecological diversity, rainforest climate, and coastal waterways that cut back into the Coastal Range of mountains provides unparalleled opportunities for experiencing remote and wild recreation with a backdrop of hundreds of waterfalls cascading from sheer granite walls into the sea 3000 feet below. The wilderness area receives over 120 inches of rain a year that promotes lush, green forests, and flows through thousands of freshwater creeks, streams, and rivers that wind their way to the bays, fiords, channels, and then to the ocean.
The vibrant green tide flats mark the end of most salmon bearing streams and major river systems, where folks can witness brown and black bear feeding on sedge grasses, roots and tubers in the spring, and during summer and fall, be impressed with the animals' abilities to hunt down spawning salmon numbering in the millions. From picturesque snow capped peaks where the mountain goats roam, to the rugged coastal shoreline of protected coves, bays, channels and canals, you'll find wildlife in healthy abundance in the Misty Fiords. The bears of course are everywhere, and more bald eagles than you could imagine soaring overhead and often impressing guests with a fish catching show! Sitka black tail deer forage through the dense old growth forests, followed closely by packs of Alaskan Archipelago Wolves. Birders are in for a treat with realistically often sightings of marbled murrelets, pigeon guillemonts, red throated loons, pacific loons, and scores of other sea and shore birds. The marine mammal shows of Misty Fjords includes the migrating humpback whales, pods of killer whales, and the ever present dall porpoises riding the bow wave of the Saltery C. You'll also find harbor seals, sea lions, hauled out on rocky outcroppings, sea otters rolling around the kelp beds and river otters gliding purposefully, often playfully, along the waters edges in search of food.


Misty Fiords is indeed a special place where civilization is left behind and Nature's wilderness magic begins in oh so many ways. The East and West Behm Canals connect at the backside (northern) tip of Revilla Island (the island the city of Ketchikan inhabits on the south-southeast shores) within Misty Fjords Wilderness near the Unuk River. Every so often Classic Alaska Charters and the Saltery "C" make the circumnavigation around Revilla Island taking in the solitude and remoteness that wilderness stands for, tucking into protected bays and coves to watch and photograph wildlife, set crab and shrimp pots, and explore the "drifts" and "drags" for salmon and halibut. Few if ever are there the annoying floatplanes or other boats to invade our peaceful explorations.
Prince of Wales Island-Southeast Coast, Duke Island, Gravina Island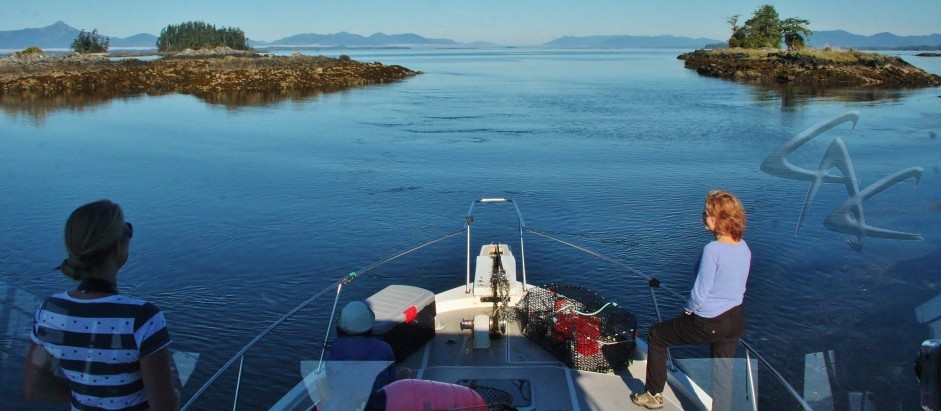 South and East of Ketchikan are the attractive fisheries along the shorelines with rocky outcroppings, steep dropoffs, productive pinnacles, and large reefs with kelp beds, that produce fantastic fishing opportunities for migrating salmon of all species, along with halibut, ling cod, and rockfish. The areas are popular at certain times during the year with commercial fisherman of all gear groups.. however, early in the season and even those "closed" days for commercial fishing groups, the sportfishing can be outstanding! Several lodges and day charter boats charge a bit extra to cover fuel costs to get out that far and fish these fun "catching" zones. With CAC it's all part of the cost, nothing extra, AND, we don't have to run back to town or a lodge to sleep…we stay overnight right there on or near the hot fishing grounds! It does take a couple three hours to get there and we fish "outside" only during the best of sea and weather conditions for a comfortable and productive fishing trip. An added bonus are the humpback whales that are commonly sighted bubble net feeding along the coastlines of these areas.